For my first 2016 post, I will write about the new vRealize Operations Management Pack for NSX for vSphere (version 3.0) of which release went quite unnoticed mid December 2015. The NSX for vSphere management pack offers comprehensive operations management coverage for any customer piloting, or deploying, NSX for vSphere.
One of the concerns raised sometimes with NSX is the operation / troubleshooting side of the picture. Although I disagree (and will not open the debate about that subject here), this new vROps management pack for NSX is really great and should answer the concerns of the most sceptical.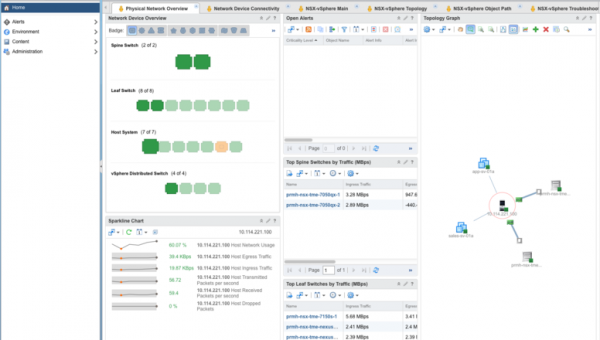 This management pack extends the vRealize Operations Manager core analytics, correlation, predictive capacity, and visualization capabilities to virtual networks. Coverage includes health, performance, capacity, and troubleshooting for NSX:
logical switches
logical routers
edge services
distributed firewall
load balancers
This management pack includes approximately 50 pre-defined configuration checks, with another 50 additional configuration metrics for both out of the box and customer defined NSX configuration checks.
With the version 3 release, several new features have been added including visibility of vSphere hosts in NSX transport zones across multiple vSphere clusters. This provides visibility for determining the span of the mobility and routing domains. Further, approximately 50 configuration metrics have been added. With these metrics customers can write their own smart configuration assurance checks. New troubleshooting options have been added into the action framework, for triggering path trace between two selected endpoints and visually seeing the NSX service nodes. And additional edge service objects have been added for analyzing edge services, including the number ECMP and OSPF edges configured, and their neighbor relationships.
Four dashboards are provided out of the box: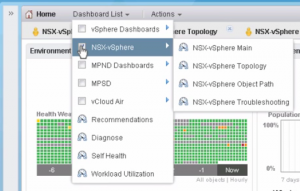 NSX-vSphere Main: overview of the health of the network objects (network traffic information and NSX-related open alerts).
NSX-vSphere Topology: details about the topology of a selected object, how it connects to the logical elements in the network, and a view of related alerts and metrics.
NSX-vSphere Object Path: allows to run a visual path between two objects and see how they are connected to each other, and to other objects in the environment (logical and physical path).
NSX-vSphere Troubleshooting: allows to run various actions that can be used to assist in troubleshooting connectivity problems (actions depends on the selected object and will change to be contextually relevant).
NSX-vSphere Universe (not displayed by default): allows to monitor a cross-vCenter NSX environment.
For specific networking troubleshooting use cases, an endpoint object to object visualization widget is provided. You can simply select two endpoints to check network connectivity between them. Once selected, the NSX for vSphere management pack performs a ping test and path trace via a two-way communication API with NSX manager. Within the topology widget the user can see the NSX service objects between the two endpoints and the health of these objects (as a combined vSphere/NSX object). If the communication path is being dropped or blocked, the node that is blocking the communication is shown.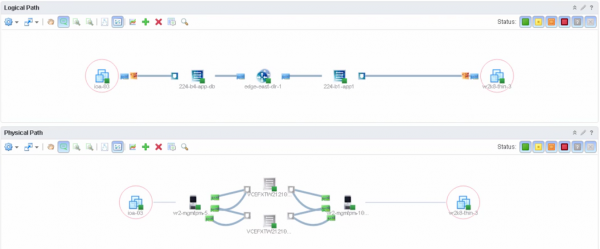 Via the action framework options the NSX operations manager can drill into any NSX node and extract forwarding, load balancer and firewall tables to determine why there is a problem. These troubleshooting workflows also include the visualization of the physical data center switch network.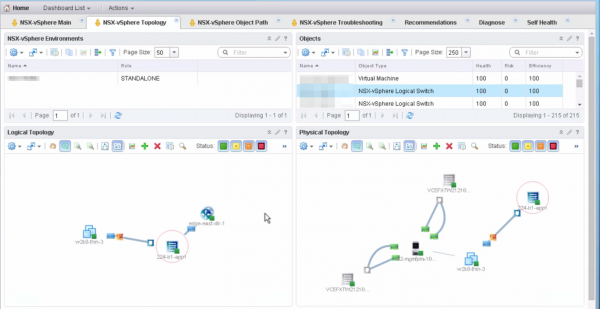 The new vROps management pack for NSX requirements are:
vROps 6.1 (with the patch 3294016)
NSX Manager ≥6.1.x
vCenter Server ≥5.5
ESX Server ≥5.5
Log Insight ≥3.0 (optional)
As this management pack collects data on NSX objects through NSX APIs, the management pack scalability depends on the number of objects and metrics collected per object. Please have a look at the Release Notes for additional information on the management pack scalability.
A new Management Pack for Network Devices (a.k.a. MPND) is included with the new NSX MP 3.0 but it is also an adapter that can be installed by itself (as it has no dependencies with the NSX MP). The MPND extends the operational management capabilities of vROps to the areas of physical data center networking by including data center switch discovery, data center switch health and performance monitoring, and vSphere object to object topology troubleshooting across the physical switch infrastructure. Representation of this discovered topology is displayed in a leaf/spine hierarchical orientation with object relationships that correlate with virtual networking and compute objects including NSX, VDS, vSphere and Virtual Machines. The management pack for network devices works as a vROps adapter via SNMP and CDP/LLDP, and provides 2 additional dashboards:
Physical Network Overview
Network Device Connectivity
Additional resources: