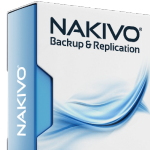 Nakivo is a solution for VMware backup, replication and recovery. It offers image-based VM backup (onsite, offsite or to Amazon cloud), replicate VM to create and maintain identical copies of source VMs on distant ESXi hosts, provide instant VM recovery or granular recovery (files, Active Directory or Exchange objects), and so on.
Nakivo Backup & Replication is designed to to be easily plugged into virtual and cloud environments: the 1st time I tried it, I only needed 30 minutes to download the OVA, deploy the product, configure it and do my first backup (see screenshot below).
The product is flexible and multiple deployments options are available:
Virtual Appliance: download a pre-configured VMware Virtual Appliance and import it in vSphere
Install on NAS: install directly onto a Synology or Western Digital NAS
Deploy as AWS AMI: deploy in Amazon Cloud from a pre-configured Amazon Machine Image
Install on Linux
Install on Windows
For complex deployments, you can separate components onto different servers: director, transporter and backup repository.
What's New in Nakivo v7?
Nakivo v6.2 has been out for a few months now, and the v7 is already showing its teeth. 🙂
NAKIVO Backup & Replication v7 comes with great features that improve VM backup and recovery, simplify VM backup management, and speed up VM backup and recovery. (source)
The Nakivo v7 beta program is about to start; this upcoming release is having a lot of new features:
Hyper-V Support (2012 and 2016): even if Hyper-V has not the same traction as vSphere, this announcement is great for companies having a multi-hypervizor politic.

Hyper-V backup with the ability to replicate backups to AWS or Azure
Hyper-V replication
File recovery
Exchange object recovery
Active Directory object recovery

Support for vSphere 6.5
Skip Swap Files: Nakivo v7 will automatically skip the swap file in vSphere and Hyper-V VMs (to speed up data transfer and save storage space in a backup repository)
Stay tuned on the following page for more updates: What's New in v7 – Hyper-V Backup and More.
Resources: register to the beta.