VMware will announce today at VMworld US its hyper-converged solution: EVO:RAIL™.
VMware EVO:RAIL is the first hyper-converged infrastructure appliance powered 100% by VMware's compute, networking, storage, and management software. EVO: RAIL Deployment, Configuration, and Management streamlines initial setup and ongoing operations including updates with zero downtime and automatic scale-out. EVO:RAIL is fully deployed in minutes, once racked, cabled and powered on.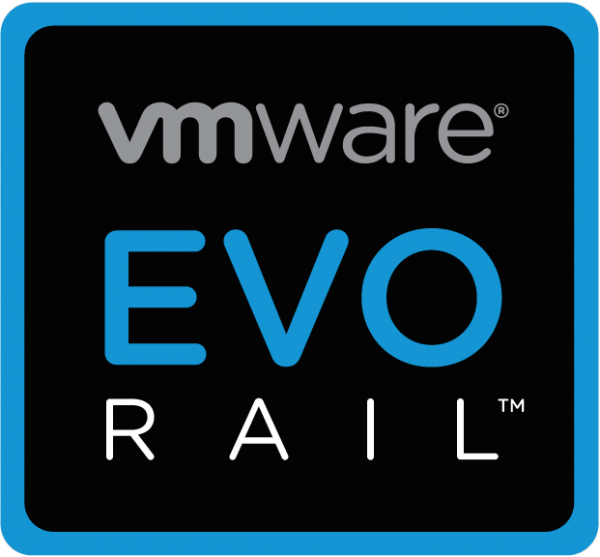 But, wait…so VMware will sell hardware now? No, VMware is not entering the hardware market. The EVO:RAIL software bundle is being made available to trusted partners who build, ship, and support the EVO:RAIL appliances. The version 1.0 of the EVO:RAIL software will support four EVO:RAIL appliances (four nodes per appliance) for a total of 16 ESXi hosts in the cluster.
What is interesting is that EVO:RAIL will be delivered as a complete solution, a building block with hardware, software and support under a single SKU (for a simplified licensing).
VMware will deliver the EVO:RAIL software bundle and specific instructions for building the appliance to qualified partners.
The EVO:RAIL partners source the hardware, build the appliance, sell to customers, and provide hardware and software support. Those partners include Dell, EMC, Fujitsu, Inspur, NetOne and SuperMicro.
Each EVO:RAIL Hyper-Converged Infrastructure Appliance (a.k.a. HCIA) consists of 4 nodes, where each node is an independent physical server. Each of these nodes have:
Two Intel E5-2620v2 six-core CPUs
192GB of memory
One SLC SATADOM or SAS HDD for the ESXi™ boot device
Three SAS 10K RPM 1.2TB HDD for the VMware Virtual SAN™ datastore
One 400GB MLC enterprise-grade SSD for read/write cache
One Virtual SAN-certified pass-through disk controller
Two 10GbE NIC ports (configured for either 10GBase-T or SFP+ connections)
One 1GbE IPMI port for remote (out-of-band) management
For the storage, EVO:RAIL creates a single Virtual SAN datastore from all local HDDs on each ESXi host in a EVO:RAIL cluster, for a total storage capacity of 16TB per HCIA.
EVO:RAIL software bundle is comprised of:
EVO:RAIL Deployment, Configuration, and Management
VMware vSphere Enterprise Plus
Virtual SAN for storage
vCenter Server
vCenter Log Insight
EVO:RAIL enables deployment, configuration, and management through a new, intuitive HTML5-based user interface.
If you want to give you an idea about EVO:RAIL, you can watch some technical videos on VMware's website.
Product page: EVO:RAIL.