…or should I say Dell EMC UnityVSA? 🙂
EMC released the new midrange storage array Unity at EMC World last year. Available in 3 different options (Unity All Flash, Unity Hybrid Flash and UnityVSA), the Unity product line was built as a replacement for VNX and VNXe use cases.
Unity features multiple integration points with virtualization technologies that are used in datacenters today such as VMware vSphere and Microsoft Hyper-V. Many of these powerful integration points are embedded in to the system and are designed with the end-user experience in mind. They can be easily managed directly from the HTML5-based Unisphere graphical user interface.

In case you are curious and would like to know more about the story behind Unity, I encourage you to read Chad's post on the subject, EMC World 2016: Unity… the story BEHIND the story.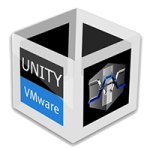 I won't come back on the All Flash and Hybrid Flash options as the UnityVSA is the interesting topic here. EMC UnityVSA (Unity Virtual Storage Appliance) is a unified software defined storage solution that runs atop the VMware ESXi platform and is available in two editions – Professional Edition (PE) and Community Edition (CE). While the Professional Edition is a licensed product (10 TB, 25 TB, and 50 TB capacity levels), the UnityVSA Community Edition allows up to 4 TB of capacity for free. 🙂
The Community Edition is of course recommended for non-production use, so perfect for your (home)lab! And why would you install UnityVSA when you can have the awesomeness of vSAN? 🙂 Well, I see plenty reasons to deploy it:
Virtual Volumes (VVol)
NFS 4.1
You can test various NFS / iSCSI configuration combinations
You can simulate different data centers with storage replication
You can play with VASA (vStorage API for Storage Awareness)
Because you want to learn
Because you want to test here before breaking your All Flash or Hybrid Unity storage
Simply because you're curious
UnityVSA vs Physical Unity Models
Although "hardware" differences are obvious, the UnityVSA doesn't also provide the same set of features than his physical counterparts. The following features are not available in the Unity virtual storage appliance:
Write Caching
Data at Rest Encryption
Fiber Channel
Synchronous Replication
Nevertheless, a lot of great features are still available, such as read caching, asynchronous block and file replication, or also virtual volumes.
UnityVSA Deployment
The specifications for UnityVSA are the following:
2 vCPUs
12 GB memory
Storage

3 system disks by default (84 GB)
16 disks maximum (in total)

6 virtual network adapters (4 ports for I/O, 1 for Unisphere, 1 for system use)
VMware ESXi 5.5 (or later)
I won't come back on the OVA deployment itself, but please note the following special consideration: without going into details, you can't use the current OVA to deploy on vSphere 6.5.

Error:
The operation failed for an undetermined reason. Typically this problem occurs due to certificates that the browser does not trust. If you are using self-signed or custom certificates, open the URL below in a new browser and accept the certificate, then retry the operation.
If you get this error, you can follow the steps described in this EMC KB. Personally, I was just lazy and deployed it on vCenter 6.0. 🙂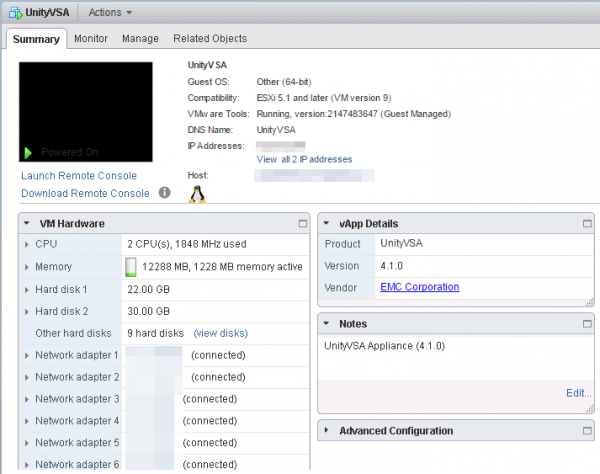 Additional important considerations:
The UnityVSA supports only 1 SP (Storage Processor).
The 3 first virtual disks are automatically created for the VM's system data (these are always the virtual disks identified as 1-3). Do not touch these (or a puppy will die)!
You must add at least one virtual disk for user data.
The minimum virtual disk size is 10 GB.
It is strongly recommended that the user's storage (on virtual disks) is allocated on datastores built on different physical disks than the default UnityVSA VM datastore. Failure to follow this recommendation can lead to system and I/O performance degradation.
Please allow up to 60 seconds for UnityVSA to recognize and display newly attached vdisks.
If you don't have a DHCP server in your network and if you did not configure the management IP address during the deployment process, you must login to the console using the service account username and password service/service and run the svc_initial_config command to assign an IP address. For an IPv4 address, enter:

svc_initial_config -4 "<ipv4_address> <ipv4_netmask> <ipv4_gateway>"

If you have to add a new SCSI controller, make sure the SCSI controller type is VMware paravirtual.
UnityVSA Initial Configuration
Before jumping directly in the configuration, you should get the license file: for the UnityVSA Community Edition license, see the Obtain and activate the evaluation license for UnityVSA Community Edition post on how to obtain and activate the license. You can also apply a Professional Edition license if you have one. 🙂
Once the appliance is powered on, browse to its IP address and log to Unisphere with the default UnityVSA credentials: admin with password Password123#.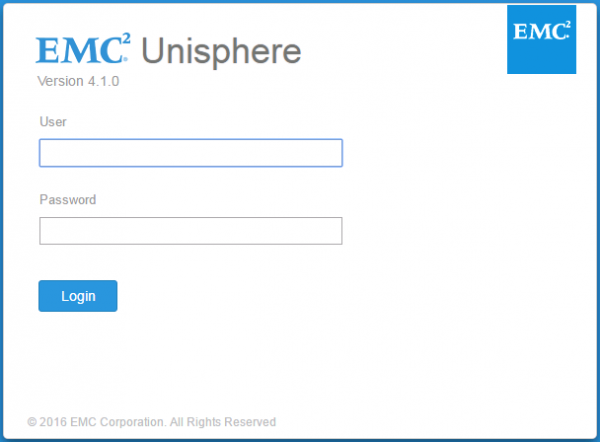 At first login, the initial configuration wizard will automatically show up.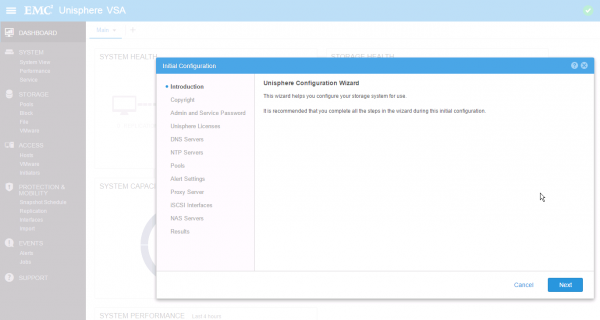 Below are the steps followed by the wizard:
Accept license agreement
Set Admin and Service password
Install license
DNS servers configuration
NTP servers configuration
Pools

Note that you can create your first pool in this step, but it's not required. You can also create pools on the Unisphere Pools page later.

Email alerts and SMTP settings
Proxy server configuration
iSCSI network interfaces configuration
NAS server creation
…and that's it!
The Unity Virtual Storage Appliance has now been deployed and uses the same interface (Unisphere) and software as its hardware counterpart. From here, you can move forward and start configuring it in details.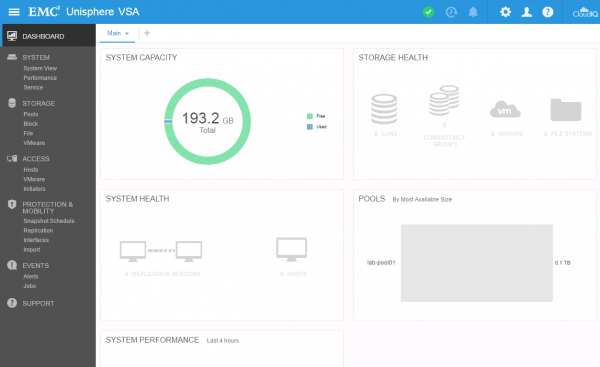 I plan to post more on this topic later as I'm testing some of the appliance capabilities, stay tuned!