I have talked about vSphere 5.5 Enhanced LACP Support Design Considerations in a previous article. Without resuming all details of this post, VMware introduced LACP support on vSphere Distributed Switch in vSphere 5.1. LACP controls the bundling of several physical network links together to form a logical channel for increased bandwidth and redundancy purposes. Enhanced LACP Support (LACP v2) on VMware vSphere 5.5 (released in september 2013) introduced a larger set of features to improve dynamic link aggregation flexibility compared with vSphere 5.1 and addressed the gaps with competitors.
However, you may end up with the LACP configuration missing in the settings of your Distributed Switch although it is already in version 5.5.0, meaning that you have only LACP Basic Support.
According to the VMware KB 2051311, you may find yourself in this case if you upgraded your Distributed Switch from version 5.1.0 to 5.5.0. Due to some prerequisites, the migration process does not automatically enable Enhanced LACP Support to avoid possible problems.
Actually, there is a second scenario not described in VMware KB where you may end up with LACP Basic Support: if you create a Distributed Switch in version 5.5.0 with the legacy vSphere Client (instead of Web Client).
Distributed Switch 5.5.0 upgraded from 5.1.0
vSphere 5.1 only offered a basic implementation for LACP, with a lot of limitations and constraints.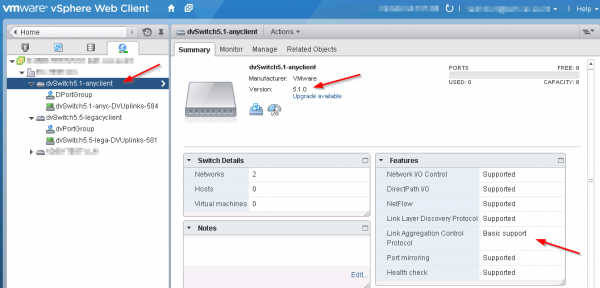 When the switch is upgraded to version 5.5.0, you need to convert to the Enhanced LACP Support to create multiple LAGs on the Distributed Switch.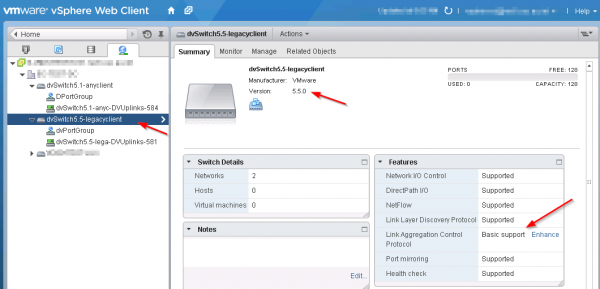 In the screenshot above, we have a Distributed Switch 5.5.0, and the Enhance link launches a wizard that will convert to your LACP Support to Enhanced.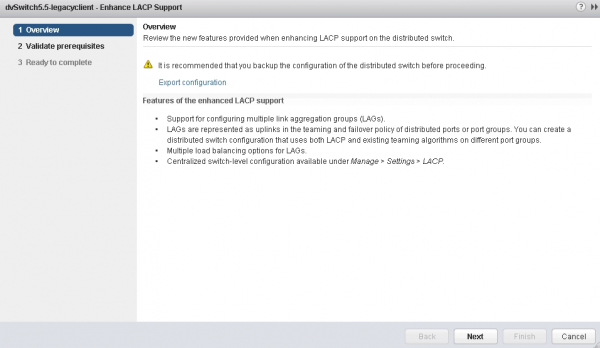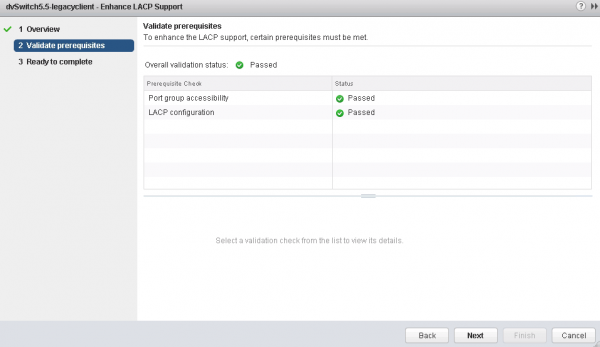 Once the process is completed, you can manage the Link Aggregation Groups (LAGs) in " Manage > Settings > LACP ".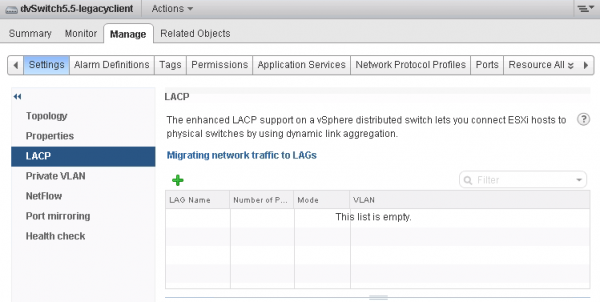 Distributed Switch 5.5.0 created with legacy vSphere Client
This is the second scenario where you may only have LACP Basic Support. To be able to create multiple LAGs on you Distributed Switch, you must go through the same migration process as the one abovementioned.
My advice is to always use the vSphere Web Client if you are in vSphere 5.5. 🙂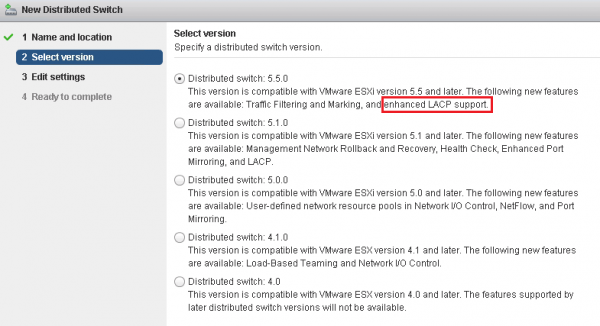 Note: if you have trouble to convert to Enhanced LACP Support on your Distributed Switch, you can have a look at the KB 2051321.