As vSphere 6.0 was released last week, you might already have deployed the new vCSA 6.0 (vCenter Server Appliance). However, you are wondering now how to change configuration parameters (like database or network settings, services, NTP, etc.): where is my usual configuration interface ? Where is my VAMI ? 🙂
In version 6.0, the configuration interface that you used to access to do all this stuff (the Virtual Appliance Management Interface, or VAMI) is no longer available for the vCSA.
VMware published a technical note which provides a configuration comparison that will help you transition from the vCenter Server Appliance 5.5 to the vCenter Server Appliance 6.0.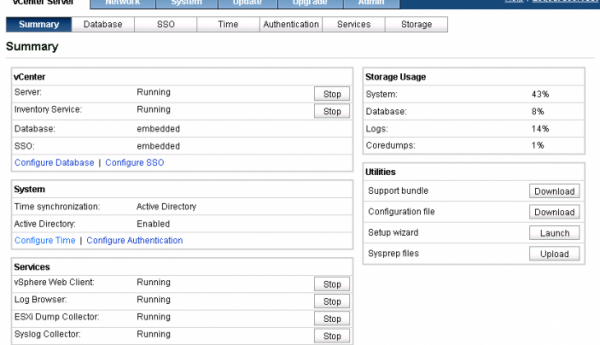 In version 5.5, most of vCenter Server Appliance configuration tasks can be done using the VAMI: configure database settings, network settings, change the SSO mode, start and stop services, configure auto-deploy or dump collector, upload sysprep files, and so so.
With vSphere 6.0, vCSA configuration tasks can be performed in one of the following ways:
Configuring during the deployment of the appliance
Using the vSphere Web Client
Using the appliance shell
Using the Direct Console User Interface (DCUI)
Source : Comparing the Configuration of vCenter Server Appliance 5.5 and 6.0.